Encapsulations, Volume 2
1st Edition
Author:
Alexandru Grumezescu
Hardcover ISBN: 9780128043073
eBook ISBN: 9780128043783
Published Date: 17th June 2016
Secure Checkout
Personal information is secured with SSL technology.
Free Shipping
Free global shipping
No minimum order.
---
List of Contributors
Series Foreword
Series Preface
Volume Preface
1: Electrohydrodynamic microencapsulation technology

Abstract
1. Introduction
2. Electrohydrodynamic Atomization
3. Micro- and Nanoencapsulation Techniques
4. Electrohydrodynamic Micro- and Nanoencapsulation
5. Electrohydrodynamic Microencapsulation for Food Processing
6. Conclusions

2: Exploring nanoencapsulation of aroma and flavors as new frontier in food technology

Abstract
1. Introduction
2. Nanoencapsulation of Aroma and Flavors
3. Advantages of Nanoencapsulation of Flavor and Aroma Compounds
4. Quality Assessment by Instrumental Methods to Predict Flavor and Aroma in Food Products
5. Safety and Risk Assessment of Nanotechnology and Nanofoods
6. Conclusions

3: Nanoencapsulation of flavors and aromas by emerging technologies

Abstract
1. Introduction
2. Issues Relating to Addition of Flavors and Aromas in Foods
3. Nanoencapsulation of EOs
4. Emerging Technologies
5. Conclusions and Future Perspectives
Acknowledgments

4: Cyclodextrins as encapsulation material for flavors and aroma

Abstract
1. Introduction
2. Aroma and Flavors
3. Cyclodextrins
4. Cyclodextrins/Aroma Inclusion Complexes
5. Effects of Encapsulation
6. Conclusions

5: Structural and thermodynamic insight into the potentiality of food biopolymers to behave as smart nanovehicles for essential polyunsaturated lipids

Abstract
1. Introduction
2. Intermolecular Forces Underlying the Encapsulation of the Polyunsaturated Lipids by the Biopolymers
3. Protection Ability of the (Biopolymer + Lipids) Complexes Against Oxidation of the Encapsulated Lipids
4. Structural and Thermodynamic Parameters of the (Biopolymer + Lipids) Complex Particles Underlying Their Protective Abilities Against Oxidation of the Encapsulated Lipids
5. Thermodynamic Parameters Controlling Solubility of the (Biopolymer + Lipids) Complex Particles in an Aqueous Medium
6. Structural Parameters of the Biopolymer Nanovehicles Controlling Release of the Polyunsaturated Lipids in Vitro
7. Conclusions
Acknowledgments

6: Encapsulation: entrapping essential oil/flavors/aromas in food

Abstract
1. Introduction
2. New Technologies: Future Course
3. Nanotechnology
4. Matrix or Coating Materials
5. Encapsulation Processes
6. Edible Films Formed in Encapsulation
7. Retention of Volatiles
8. Storage Stability
9. Conclusions

7: Antimicrobials from herbs, spices, and plants

Abstract
1. Nanoencapsulation of Natural Antimicrobial Products
2. Encapsulation Process
3. Encapsulation Techniques
4. Encapsulation of Lipophilic Antimicrobials
5. Nano- Versus Microencapsulation
6. Conclusions

8: Supramolecular strategy of the encapsulation of low-molecular-weight food ingredients

Abstract
1. Introduction
2. Self-Assembled Delivery Systems Based on Amphiphilic Compounds
3. Polymer-Based Formulations as Delivery Systems
4. Molecular Complexes Based on the Guest–Host Interactions
5. Conclusions
Acknowledgment

9: Novel approaches in nanoencapsulation of aromas and flavors

Abstract
1. Introduction
2. Flavor Nanoencapsulation by Spray Drying
3. Flavors Encapsulated in Nanoemulsions
4. Encapsulation of Flavors in Lipid-Based Nanoparticles
5. Flavors Encapsulated in Liposomes
6. Flavors Encapsulated in Cyclodextrins
7. Flavors Encapsulated in Complex Coacervates
8. Conclusions
Acknowledgment

10: Nanocomposite for food encapsulation packaging

Abstract
1. Introduction
2. Nanocomposite for Food Encapsulation Packaging
3. Preparation Methods
4. Surface Adhesion
5. New Concepts in Food Encapsulation
6. Industry, Enterprise, and Market
7. Limitations and Shortcomings
8. Conclusions

11: Microencapsulated bioactive components as a source of health

Abstract
1. Introduction
2. Microencapsulation
3. Antioxidant Properties of Phenolic Compounds
4. Microencapsulation via Emulsion of Chilean Blackberry
5. Conclusions

12: Biocompatible microemulsions for the nanoencapsulation of essential oils and nutraceuticals

Abstract
1. Introduction
2. Examples of Components and Characterization Procedures
3. Discussions
4. Conclusions and Outlook
Acknowledgments

13: Nanoencapsulation strategies applied to maximize target delivery of intact polyphenols

Abstract
1. Introduction
2. Encapsulation Technologies
3. Controlled Release of Polyphenols in the Gut
4. Conclusions

14: Nanoencapsulation technology to control release and enhance bioactivity of essential oils

Abstract
1. Introduction
2. Chemical Composition of EOs
3. Limits and Challenges for the Use of Essential Oils for Their Biological Activities
4. Nanoencapsulation Technology
5. Nanoencapsulated Delivery of EOs
6. Polymer-Based Nanoparticles
7. Lipid-Based Nanoencapsulation
8. Molecular Complexes
9. Conclusions

15: Nanoencapsulation of essential oils for sustained release: application as therapeutics and antimicrobials

Abstract
1. Introduction
2. Chemical Composition of Essential Oils
3. Nanoencapsulation Strategies of Essential Oils for Various Biological Activities
4. Inclusion Complexes
5. Future Prospects

16: Nanoencapsulation and nanocontainer based delivery systems for drugs, flavors, and aromas

Abstract
1. Introduction
2. Nanocontainers for Delivery System
3. Mechanism of Response
4. Active Molecules to be Delivered
5. Stimuli for Controlled Release
6. Case Study
7. Future Prospects
8. Conclusions

17: Cyclodextrins-based nanocomplexes for encapsulation of bioactive compounds in food, cosmetics, and pharmaceutical products: principles of supramolecular complexes formation, their influence on the antioxidative properties of target chemicals, and recent advances in selected industrial applications

Abstract
1. Introduction
2. Cyclodextrins and Their Complexes
3. General Information about Free Radicals
4. Antioxidants
5. Analysis of Antioxidants
6. Encapsulation of Selected Antioxidants by Cyclodextrins
7. Recent Advances of Cyclodextrins Application in Pharmaceutics, Food, and Cosmetics Products
8. Conclusions

18: Nanoencapsulation of flavors and aromas by cyclodextrins

Abstract
1. Introduction
2. History of Flavor Encapsulation by Cyclodextrins
3. Approval Status of Cyclodextrins
4. Formulation of Flavors with Cyclodextrins: Methods of Preparation, and Analysis
5. Flavor Complexes in Food Processing
6. Cyclodextrins in Aroma Preserving and Antibiotic Active Food Packaging
7. Conclusions

19: Natural biopolymers as nanocarriers for bioactive ingredients used in food industries

Abstract
1. Introduction
2. Natural Biopolymers Used in Nanoencapsulation
3. Methods of Fabrication of Nanoparticles from Natural Polymers
4. Nanoencapsulation of Bioactive Food Ingredients
5. Bioavailability and Toxicity
6. Conclusions and Future Trends
Abbreviations

20: Process technology of nanoemulsions in food processing

Abstract
1. Introduction
2. Thermodynamics of Nanosized and Nanoemulsion Production Technologies
3. High-Energy Production Technologies of Nanoemulsions
4. Low-Energy Production Technologies of Nanosized Emulsifiation
5. Functional Characterization Processes of Nanoemulsions
6. Application of Nanoemulsion Science in Food Processing
7. Conclusions

Subject Index
---
Encapsulations, a volume in the Nanotechnology in the Agri-Food Industry series,presents key elements in establishing food quality through the improvement of food flavor and aroma. The major benefits of nanoencapsulation for food ingredients include improvement in bioavailability of flavor and aroma ingredients, improvement in solubility of poor water-soluble ingredients, higher ingredient retention during production process, higher activity levels of encapsulated ingredients, improved shelf life, and controlled release of flavor and aroma. This volume discusses main nanoencapsulation processes such as spray drying, melt injection, extrusion, coacervation, and emulsification. The materials used in nanoencapsulation include lipids, proteins, carbohydrates, cellulose, gums, and food grade polymers. Applications and benefits of nanoencapsulation such as controlled release, protections, and taste masking will be explained in detail.
Includes the most up-to-date information on nanoencapsulation and nanocontainer-based delivery of antimicrobials
Presents nanomaterials for innovation based on scientific advancements in the field
Provides control release strategies to enhance bioactivity, including methods and techniques for research and innovation
Provides useful tools to improve the delivery of bioactive molecules and living cells into foods
Food engineers, bioengineers, researchers and professionals in microencapsulation industries, food biochemistry, graduate students, professionals, researchers, academic staff and students across all of food science
---
No. of pages:

924
Language:

English
Copyright:

© Academic Press

2016
Published:

17th June 2016
Imprint:

Academic Press
Hardcover

ISBN:

9780128043073
eBook

ISBN:

9780128043783
---
"Overall, with the informative collections of food encapsulation research and development, the book is obviously a very practical and convenient handbook for both scientists and technologists who work in the food industry and who are interested in the development and application of encapsulation technology." -Johnson Matthey Technology Review
---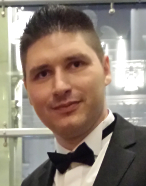 Alexandru Mihai Grumezescu is a lecturer in the Department of Science and Engineering of Oxide Materials and Nanomaterials, at the Faculty of Applied Chemistry and Materials Science, Politehnica University of Bucharest, Romania. He is an experienced researcher and published editor in the field of nano and biostructures. He is the editor-in-chief of two international open access journals: Biointerface Research in Applied Chemistry, Letters and Applied NanoBioScience. Dr. Grumezescu has published more than 200 peer-reviewed papers, authored nine books, and has served as an editor for more than 50 scholarly books.
Affiliations and Expertise
Assistant Professor, Department of Science and Engineering of Oxide Materials and Nanomaterials, Faculty of Applied Chemistry and Materials Science and Faculty of Medical Engineering, Politehnica University of Bucharest, Romania
Tax Exemption
We cannot process tax exempt orders online. If you wish to place a tax exempt order please
contact us
.
Elsevier.com visitor survey
We are always looking for ways to improve customer experience on Elsevier.com.
We would like to ask you for a moment of your time to fill in a short questionnaire, at the end of your visit.

If you decide to participate, a new browser tab will open so you can complete the survey after you have completed your visit to this website.

Thanks in advance for your time.
Accept
Decline