Comprehensive Sampling and Sample Preparation
1st Edition
Analytical Techniques for Scientists
Editor-in-Chiefs:
Janusz Pawliszyn
Hardcover ISBN: 9780123813732
eBook ISBN: 9780123813749
Published Date: 1st June 2012
---
Comprehensive Sampling and Sample Preparation is a complete treatment of the theory and methodology of sampling in all physical phases and the theory of sample preparation for all major extraction techniques. It is the perfect starting point for researchers and students to design and implement their experiments and support those experiments with quality-reviewed background information.
In its four volumes, fundamentals of sampling and sample preparation are reinforced through broad and detailed sections dealing with Biological and Medical, Environmental and Forensic, and Food and Beverage applications. The contributions are organized to reflect the way in which analytical chemists approach a problem. It is intended for a broad audience of analytical chemists, both educators and practitioners of the art and can assist in the preparation of courses as well in the selection of sampling and sample preparation techniques to address the challenges at hand. Above all, it is designed to be helpful in learning more about these topics, as well as to encourage an interest in sampling and sample preparation by outlining the present practice of the technology and by indicating research opportunities.
Sampling and Sample preparation is a large and well-defined field in Analytical Chemistry, relevant for many application areas such as medicine, environmental science, biochemistry, pharmacology, geology, and food science. This work covers all these aspects and will be extremely useful to researchers and students, who can use it as a starting point to design and implement their experiments and for quality-reviewed background information
There are limited resources that Educators can use to effectively teach the fundamental aspects of modern sample preparation technology. Comprehensive Sampling and Sample Preparation addresses this need, but focuses on the common principles of new developments in extraction technologies rather than the differences between techniques thus facilitating a more thorough understanding
Provides a complete overview of the field. Not only will help to save time, it will also help to make correct assessments and avoid costly mistakes in sampling in the process
Sample and sample preparation are integral parts of the analytical process but are often less considered and sometimes even completely disregarded in the available literature. To fill this gap, leading scientists have contributed 130 chapters, organized in 4 volumes, covering all modern aspects of sampling and liquid, solid phase and membrane extractions, as well as the challenges associated with different types of matrices in relevant application areas
Educators and practitioners of analytical chemistry as well as researchers and graduate students of analytical chemistry, medicine, environmental science, biochemistry, pharmacology, geology, and food science
Editor-in-Chief
Section Editors
Contributors
Preface
VOLUME 1. Sampling Theory and Methodology
Sampling Theory
1.01. Theoretical Approaches
1.01.1 Introduction
1.01.2 Obtaining the Variance of an Estimator: Taylor Series Method
1.01.3 Simple Random Sampling
1.01.4 Stratified Random Sampling
1.01.5 Systematic Sampling
1.01.6 Cluster Sampling
1.01.7 Conclusion
See also
REFERENCES
Relevant Websites
Quality Assurance and Quality Control
1.02. Methodologies for Sample Preservation and Stabilization
1.02.1 Introduction
1.02.2 Analyte Lost Processes
1.02.3 Methodologies Applied to Aqueous Matrices
1.02.4 Methodologies Applied to Solid Matrices
1.02.5 Methodologies Applied to Biological Matrices
1.02.6 Concluding Remarks
See also
REFERENCES
Relevant Websites
1.03. Assessing and Controlling Sample Contamination
1.03.1 Introduction
1.03.2 Sources of Contamination and their Control
1.03.3 Control of Contamination
See also
REFERENCES
Relevant Websites
1.04. Sample Homogenization
1.04.1 Requirements for Sample Homogenization in Environmental and Food Analysis
1.04.2 Homogenization Theory
1.04.3 Standardized Methods for Sample Homogenization
1.04.4 Validation Procedures
1.04.5 Homogenization Techniques
1.04.6 Application to Food Matrices
1.04.7 Application to Environmental Matrices
1.04.8 Conclusions
Acknowledgments
See also
REFERENCES
Relevant Websites
Emerging Techniques
1.05. Sampling Strategy for Process Control
1.05.1 Introduction to Sampling Approaches for Process Analyzers
1.05.2 A Home for the Analytical System
1.05.3 System Design Consideration Process Analy
No. of pages:

3200
Language:

English
Copyright:

© Academic Press

2012
Published:

1st June 2012
Imprint:

Academic Press
eBook

ISBN:

9780123813749
Hardcover

ISBN:

9780123813732
About the
Editor-in-Chief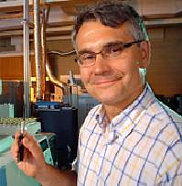 The primary focus of Professor Pawliszyn's research program is the design of highly automated and integrated instrumentation for the isolation of analytes from complex matrices and the subsequent separation, identification and determination of these species. The primary separation tools used by his group are Gas Chromatography, Liquid Chromatography and Capillary Electrophoresis coupled to variety of detections systems, including range of mass spectrometry techniques. Currently his research is focusing on elimination of organic solvents from the sample preparation step to facilitate on-site monitoring and in-vivo analysis. Several alternative techniques to solvent extraction are investigated including use of coated fibers, packed needles, membranes and supercritical fluids. Dr. Pawliszyn is exploring application of the computational and modeling techniques to enhance performance of sample preparation, chromatographic separations and detection. The major area of his interest involves the development and application of imaging detection techniques for microcolumn chromatography, capillary electrophoresis and micro chip separation devices. He is an author of over 400 scientific publications and a book on Solid Phase Microextraction. His Hirsch Index (H-index) is 69. He is a Fellow of Royal Society of Canada and Chemical Institute of Canada, editor of Analytica Chimica Acta, Trends in Analytical Chemistry and a member of the Editorial Board of Journal of Separation Science. He initiated a conference, "ExTech", focusing on new advances in sample preparation and disseminates new scientific developments in the area, which meets every year in different part of the world. He received the 1995 McBryde Medal, the 1996 Tswett Medal, the 1996 Hyphenated Techniques in Chromatography Award, the 1996 Caledon Award, the Jubilee Medal 1998 from the Chromatographic Society, U.K., the 2000 Maxxam Award from Canadian Society for Chemistry, the 2000 Varian Lecture Award from Carleton
Affiliations and Expertise
University Professor and Canada Research Chair, Department of Chemistry, University of Waterloo, Ontario