Comprehensive Renewable Energy
1st Edition
Editor-in-Chiefs:
Ali Sayigh
Hardcover ISBN: 9780080878720
eBook ISBN: 9780080878737
Published Date: 2nd May 2012
---
Comprehensive Renewable Energy, winner of a 2012 PROSE Award for Best Multi-volume Reference in Science from the Association of American Publishers, is the only work of its type at a time when renewable energy sources are seen increasingly as realistic alternatives to fossil fuels. As the majority of information published for the target audience is currently available via a wide range of journals, seeking relevant information (be that experimental, theoretical, and computational aspects of either a fundamental or applied nature) can be a time-consuming and complicated process.
Comprehensive Renewable Energy is arranged according to the most important themes in the field (photovoltaic technology; wind energy technology; fuel cells and hydrogen technology; biomass and biofuels production; hydropower applications; solar thermal systems: components and applications; geothermal energy; ocean energy), and as such users can feel confident that they will find all the relevant information in one place, with helpful cross-referencing between and within all the subject areas, to broaden their understanding and deepen their knowledge. It is an invaluable resource for teaching as well as in research.
Available online via SciVerse ScienceDirect and in print.
Editor-in Chief, Professor Ali Sayigh (Director General of WREN (World Renewable Energy Network) and Congress Chairman of WREC (World Renewable Energy Congress, UK) has assembled an impressive, world-class team of Volume Editors and Contributing Authors. Each chapter has been painstakingly reviewed and checked for consistent high quality. The result is an authoritative overview which ties the literature together and provides the user with a reliable background information and citation resource.
The field of renewable energy counts several journals that are directly and indirectly concerned with the field. There is no reference work that encompasses the entire field and unites the different areas of research through deep foundational reviews. Comprehensive Renewable Energy fills this vacuum, and can be considered the definitive work for this subject area. It will help users apply context to the diverse journal literature offering and aid them in identifying areas for further research.
Research into renewable energy is spread across a number of different disciplines and subject areas. These areas do not always share a unique identifying factor or subject themselves to clear and concise definitions. This work unites the different areas of research and allows users, regardless of their background, to navigate through the most essential concepts with ease, saving them time and vastly improving their understanding.
There are more than 1000 references from books, journals and the internet within the eight volumes. It is full of color charts, illustrations and photographs of real projects and research results from around the world.
The only reference work available that encompasses the entire field of renewable energy and unites the different areas of research through deep foundational reviews.
Allows readers, regardless of their background, to navigate through the most essential concepts with ease, saving them ti
Undergraduates, postgraduates, researchers, faculty, government and corporate employees working in materials and energy sciences
Editor-in-Chief
Editor-in-Chief Biography
Volume Editors
Volume Editors Biography
Preface
Permission Acknowledgments
Volume 1. Photovoltaic Solar Energy
Renewable Energy
1.01. Renewable Energy Policy and Incentives
1.01.1. Types of Mechanism and Their Use
1.01.2. Impact on Deployment
1.01.3. Ensuring Investor Certainty
1.01.4. Potential for Harmonizing Support Schemes
1.01.5. Conclusion
Photovoltaic Solar Energy
1.02. Introduction to Photovoltaic Technology
1.02.1. Introduction
1.02.2. Guide to the Reader
1.02.3. Conclusion
References
Glossary
1.03. Solar Photovoltaics Technology
1.03.1. A Look at Policies, Progress, and Prognosis
1.03.2. A Glimpse at the Industry, the World, and the Markets
1.03.3. The Technologies
1.03.4. Conclusions
References
Further Reading
Glossary
1.04. History of Photovoltaics
1.04.1. Harnessing Solar Energy – A New Invention?
1.04.2. What Was the Catalyst for Photovoltaic Development?
1.04.3. A Photovoltaic Modern Historical Timeline
1.04.4. Current Photovoltaic Technologies
1.04.5. Photovoltaics – Where We Are Now?
References
Economics and Environment
1.05. Historical and Future Cost Dynamics of Photovoltaic Technology
1.05.1. Introduction: Observed Reductions in the Cost of Photovoltaics
1.05.2. What Caused the 700× Reduction in the Cost of PV?
1.05.3. Using Learning Curves to Predict Costs
1.05.4. Nonincremental Cost-Reducing Developments
1.05.5. Modeling Nonincremental Changes in PV
1.05.6. Future Progress and Development
References
1.06. Feed-In Tariffs and Other Support Mechanisms for Solar PV Promotion
1.06.1. Introduction
1.06.2. Overview of Su
No. of pages:

4422
Language:

English
Copyright:

© Elsevier

2012
Published:

2nd May 2012
Imprint:

Elsevier
eBook

ISBN:

9780080878737
Hardcover

ISBN:

9780080878720
About the
Editor-in-Chief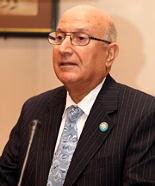 Professor Ali Sayigh, Graduated from London University, & Imperial College, B.SC. DIC, Ph.D., CEng in 1966. Fellow of the Institute of Energy, and Fellow of the Institution of Electrical Engineers, Chartered Engineer.
From 1966 to 1985, Prof Sayigh taught at Baghdad University, College of Engineering; King Saud University, College of Engineering, Saudi Arabia; fulltime; and also Kuwait University as part time professor. He was Head of Energy Department at Kuwait Institute for Scientific Research (KISR) and Expert in renewable energy at AOPEC, Kuwait from 1981-1985.
He started working in solar energy in September 1969. In 1984 he established with Pergamon Press his first International Journal for Solar and Wind Technology as an Editor-in-Chief. Since He has been Editor-in-Chief of Renewable Energy incorporating Solar & Wind Technology, published by Elsevier Science Ltd, Oxford, UK. He is editor of several international journal published in Morocco, Iran, Bangladesh and Nigeria.
He has been a member of ISES since 1973 and founder and Chairman of the ARAB Section of ISES since 1979 and was chairman of UK Solar Energy Society for 3-years and consultants to many national and international organizations, among them, the British Council, ISESCO, UNESCO, UNDP, ESCWA, & UNIDO.
Since 1977, Prof Sayigh founded and directed several Renewable Energy Conferences and Workshops in ICTP - Trieste, Italy, Canada, Colombia, Algeria, Kuwait, Bahrain, Malaysia, Zambia, Malawi, India, West Indies, Tunisia, Indonesia, Libya, Taiwan, UAE, Oman, Czech Republic, West Indies, Bahrain, Germany, Australia, Poland, Netherlands, Thailand, Oman, Korea, Iran, Syria, Saudi Arabia, Singapore, China, USA and UK.
In 1990, he established the World Renewable Energy Congress (WREC) and in 1992 the World Renewable Energy Network (WREN) which hold their Congresses every two years, attracting more than 100 countries each time. In 2000 he and others in UAE,
Affiliations and Expertise
Chairman of WREC & Director General WREN and Editor-in-chief Renewable Energy
PROSE Award 2012, Reference Work: Best Multivolume Reference/Science, American Association of Publishers
"…a useful acquisition for libraries that wish to acquire only one resource on the subject or for libraries that collect comprehensively in this area." --CHOICE, March 2013