Chemical Resistance of Specialty Thermoplastics, Volume 3
1st Edition
Chemical Resistance
Editors:
William Woishnis
Sina Ebnesajjad
Hardcover ISBN: 9781455731107
eBook ISBN: 9781455731138
Published Date: 11th July 2012
Secure Checkout
Personal information is secured with SSL technology.
Free Shipping
Free global shipping
No minimum order.
---
Dedication
Material Index
Preface
How To Use This Book
Abbreviations
PART 1. Fluoropolymers
1. Ethylene Chlorotrifluoroethylene Copolymers (ECTFE)
1.1 Ethylene Chlorotrifluoroethylene Copolymer (ECTFE)
2. Ethylene Tetrafluoroethylene Copolymers (ETFE)
2.1 Ethylene Tetrafluoroethylene Copolymer (ETFE)
3. Fluorinated Ethylene Propylene Copolymers (FEP)
3.1 Fluorinated Ethylene Propylene Copolymer (FEP)
4. Polychlorotrifluoroethylene (PCTFE)
4.1 Polychlorotrifluoroethylene (PCTFE)
5. Fluoropolymer, Perfluoroalkoxy Polymers
5.1 Fluoropolymer
5.2 Perfluoroalkoxy Polymer (PFA)
5.3 Tetrafluoroethylene Perfluoromethyl Vinyl Ether (MFA)
6. Fluoropolymer
6.1 Polytetrafluoroethylene (PTFE)
7. Polyvinylidene Fluoride and Polyvinyl Fluoride
7.1 Fluoropolymer, PVF
7.2 Polyvinylidene Fluoride (PVDF)
PART 2. Olefinic Polymers
8. Ultrahigh Molecular Weight Polyethylenes (UHMWPE)
8.1 Ultrahigh Molecular Weight Polyethylene (UHMWPE)
9. Polyethylene, Crosslinked (XPE)
9.1 Polyethylene, Crosslinked (XPE)
PART 3. Polyarylenes
10. Polyethersulfones (PES)
10.1 Polyethersulfone (PES)
11. Polyphenylene Ethers
11.1 Polyphenylene Ether
11.2 Polyphenylene Ether, Modified
12. Polyketone, Polyetheretherketone (PEEK)
12.1 Polyketone, Polyetheretherketone (PEEK)
13. Polysulfides
13.1 Polyphenylene Sulfide (PPS)
13.2 Polysulfone, Polyphenylene Sulfide Sulfone
14. Polysulfones
14.1 Polysulfone
15. Other Polyarylenes
15.1 Aromatic Polyamide (Aramid)
15.2 Polyamide, Polyarylamide (PARA)
15.3 Polyamide, Polyphthalamide (PPA)
15.4 Polybenzimidazole (PBI)
15.5 Polyester, Polyphenylene Oxide (PPO)
15.6 Polyketone
15.7 Polyketone, Polyetherketoneketone (PEKK)
15.8 Polyketone, Polyetherketone (PEK)
15.9 Polysulfone, Polyarylsulfone (PASU)
PART 4. Polyesters
16. Polyester, PBT
16.1 Polyester, PBT
PART 5. Polyimides
17. Polyimides
17.1 Polyamideimide (PAI)
17.2 Polyetherimide (PEI)
17.3 Polyimide
17.4 Polymethacrylimide (PMI)
PART 6. Vinyl Chloride Polymers
18. Chlorinated Polyvinyl Chlorides (CPVC)
18.1 Chlorinated Polyvinyl Chloride (CPVC)
PART 7. Vinylidene Chloride Polymers
19. Vinylidene Chloride Polymers (PVDC)
19.1 Polyvinylidene Chloride (PVDC)
PART 8. Miscellaneous
20. Miscellaneous
20.1 Liquid Crystal Polymer (LCP)
20.2 Polyallomer
Alphabetical List of Exposure Media
CAS Registry Numbers – Chemical Sort
CAS Registry Numbers – Numeric Sort
---
While the two-volume work Chemical Resistance of Thermoplastics covers chemical resistance of high-volume commercial (commodity) thermoplastics, this volume focuses on high performance 'engineering' or 'specialty' thermoplastics. These thermoplastics are usually consumed in smaller volumes, but have desirable characteristics for demanding and high-value applications.
This book provides extensive data on chemical resistance tests, and material chemical resistance properties for important specialty thermoplastics including polyarylenes, polymimides and fluoropolymers, polymer alloys and specialty polyethylenes.
The chemical resistance data provided enables the reader to make a better material selection decision, avoiding the major economic and business impacts of material failure, and in some cases eliminating the need for screening tests. The data gives detailed information on the parameters of exposure of plastics and their different grades to chemicals and environmental conditions, i.e. chemical compound or solvent, concentration, temperature, the length of time a plastic can withstand such attacks (with, for example, weight change as a key parameter) etc. – answering key questions often arising in the process of product development.
This volume comes in an easy-to-use print format – including a list of exposure media enabling cross-referencing to the main material data tables – as well as an online database with an extended data set, and advanced search and navigation features.
The single most comprehensive data source covering the chemical resistance properties of thermoplastics
A must-have reference for those designing and working in sectors where thermoplastics come into contact with corrosive or reactive substances
This new edition includes new chapters that provide the underpinning knowledge needed to fully understand and apply the information in the data sections
In the print edition of this book, the data covered in the two volumes are also provided on a CD-ROM (compatible with Windows XP, Windows Vista and Windows 7 operating systems) offering extended navigation and search features
Engineers and Scientists involved in designing and working with plastics across a range of sectors such as basic chemical processing industries; Food and Beverage, Pharmaceutical and Biopharmaceutical; Aerospace, Automotive and other transportation; Defense; Medical Devices; Semiconductors
---
No. of pages:

1732
Language:

English
Copyright:

© William Andrew

2012
Published:

11th July 2012
Imprint:

William Andrew
Hardcover

ISBN:

9781455731107
eBook

ISBN:

9781455731138
---
William Woishnis launched the first version of 'Chemical Resistance' in 1989, and went on to co-found William Andrew Publishing the following year. He later co-founded Knovel, offering a ground-breaking combination of online books and data, providing engineers with a productivity platform that is still widely used today. He passed away on August 2, 2009.
Affiliations and Expertise
Founder, William Andrew Publishing and Plastics Design Library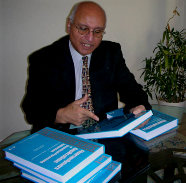 Sina Ebnesajjad is the series editor of Plastics Design Library (PDL) published in the William Andrew imprint of Elsevier. This Series is a unique series, comprising technology and applications handbooks, data books and practical guides tailored to the needs of practitioners. Sina was the editor-in-chief of William Andrew Publishing from 2005 to 2007, which was acquired by Elsevier in 2009.
He retired as a Senior Technology Associate in 2005 from the DuPont fluoropolymers after nearly 24 years of service. Sina founded of FluoroConsultants Group, LLC in 2006 where he continues to work. Sina earned his Bachelor of Science from the School of Engineering of the University of Tehran in 1976, Master of Science and PhD from the University of Michigan, Ann Arbor, all in Chemical Engineering.
He is author, editor and co-author of fifteen technical and data books including five handbooks on fluoropolymers technology and applications. He is author and co-author of three books in surface preparation and adhesion of materials, two of which are in their second editions. Sina has been involved with technical writing and publishing since 1974.
His experiences include fluoropolymer technologies (polytetrafluoroethylene and its copolymers) including polymerization, finishing, fabrication, product development, failure analysis, market development and technical service. Sina holds six patents.
Affiliations and Expertise
Fluoroconsultants Group, Chadds Ford, PA, USA
Tax Exemption
We cannot process tax exempt orders online. If you wish to place a tax exempt order please
contact us
.