Cellular Adhesion in Development and Disease, Volume 112
1st Edition
Serial Volume Editors:
Alpha Yap
eBook ISBN: 9780124078895
Hardcover ISBN: 9780124077584
Published Date: 2nd March 2015
---
Preface
Chapter One: How Adhesion Forms the Early Mammalian Embryo

Abstract
1 The Mouse Preimplantation Embryo as a Model of Adhesion in Mammalian Development
2 Adhesion Regulates Cell Shape
3 Adhesion Controls Cell Polarity
4 Adhesion Determines Cell Fate
5 Emerging Technologies to Study Adhesion
6 Questions for the Future

Chapter Two: Regulation of Cell Adhesion and Cell Sorting at Embryonic Boundaries

Abstract
1 Introduction
2 A Short History of Tissue Separation
3 Adhesion and Contractility of Embryonic Tissues
4 Molecular Base of Separation in Vertebrates: Ephrins–Eph Signaling
5 Homophilic Contact Molecules at Embryonic Boundaries
6 Regulation of Tension and Adhesion by Contact Cues
7 Conclusions
Acknowledgments

Chapter Three: Active Tension: The Role of Cadherin Adhesion and Signaling in Generating Junctional Contractility

Abstract
1 Introduction
2 The Contractile Apparatus: Actomyosin
3 Cadherins and Biogenesis of the Junctional Actin Cytoskeleton
4 Regulation of Cortical Signaling by Cadherin Adhesion
5 Closing Comments
Acknowledgments

Chapter Four: Integration of Cell–Cell Adhesion and Contractile Actomyosin Activity During Morphogenesis

Abstract
1 Introduction
2 Molecular Interplay Between Cadherin Adhesion Receptors and the Actomyosin Cytoskeleton
3 Integration of Adhesion and Contractility During Morphogenesis
4 Role of Tension-Sensing in Adherens Junctions in Regulating Cell Shape and Morphogenesis
5 Summary
Acknowledgments

Chapter Five: Nuclear Signaling from Cadherin Adhesion Complexes

Abstract
1 β-Catenin, a Dual-Function Adhesion/Transcriptional Coactivator Protein
2 Cadherins as Stoichiometric Inhibitors of Wnt/β-Catenin Signaling
3 The Cadherin–Catenin Complex as Both a Potentiator and an Attenuator of Wnt/β-Catenin Signaling
4 Cadherin Signaling and Stem Cell Behavior
5 β-Catenin "Release" from Cortical Endosomes and Nuclear Signaling
6 The Other Catenins
7 Nuclear Signaling Functions of the Actin-Binding Protein, α-Catenin
8 Cadherin Nuclear Signaling via RTKs
9 Cadherin Nuclear Signaling by Small GTPases and NFκB
10 Cadherin Nuclear Signaling via Proteolysis
11 Protocadherin Signaling to the Nucleus
12 Atypical Cadherin Nuclear Signaling
13 Cadherin Nuclear Signaling via the Hippo Pathway
14 Stem Cell Maintenance via Cadherin Nuclear Signaling
15 Desmosomal Cadherin Nuclear Signaling
16 Conclusions
Acknowledgments

Chapter Six: Nectins and Nectin-Like Molecules in Development and Disease

Abstract
1 Introduction
2 Physical Properties
3 Functional Properties
4 Development
5 Diseases
6 Conclusions and Perspectives
Acknowledgments

Chapter Seven: Anchors and Signals: The Diverse Roles of Integrins in Development

Abstract
1 Introduction
2 Integrins in Choices of Life and Death: Animal Lethal, not Always Cell Lethal
3 Integrins and Cell Fate Choices
4 Integrins in Single and Collective Cell Migration: Beyond the Fibroblast Model
5 Building Tissues and Organs: Snags and Anchors
6 Integrins in Epithelia: Cell Polarity and Division Orientation
7 Outlook
Acknowledgments

Chapter Eight: Epithelial–Mesenchymal Transitions: From Cell Plasticity to Concept Elasticity

Abstract
1 Back to the Origins: Defining EMT
2 EMT is a Morphogenic Developmental Process, or is it?
3 Controlling EMT or Being Controlled by EMT
4 Revisiting EMT in Cancer
5 Are Cancer Cells Reactivating an Embryonic Process or Barely Surviving?
6 EMT With or Without Cadherins: A Cancer Metastable Phenotype
7 Conclusion

Chapter Nine: Embryonic Cell–Cell Adhesion: A Key Player in Collective Neural Crest Migration

Abstract
1 Introduction
2 Cell–Cell Adhesion During Neural Crest Cell Directional Collective Migration
3 Concluding Remarks
Acknowledgments

Chapter Ten: VE-cadherin in Vascular Development: A Coordinator of Cell Signaling and Tissue Morphogenesis

Abstract
1 Vascular Cell Adhesion
2 VE-cadherin as a Physical Adaptor
3 Modulation of VE-cadherin by Kinases, Phosphatases, and Small GTPases
4 VE-cadherin in Vessel Development and Morphogenesis
5 VE-cadherin and Vascular Signaling During Angiogenesis and Morphogenesis
6 Conclusions
Acknowledgements

Chapter Eleven: Adhesion in Mammary Development: Novel Roles for E-Cadherin in Individual and Collective Cell Migration

Abstract
1 Introduction
2 Cell–Cell Adhesion in Mammary Development: The Major Players
3 Cell–Cell Adhesion in Breast Cancer
4 Can a Migratory Single Cell or Cell Cluster Be "Epithelial"?
Acknowledgments

Chapter Twelve: Cell Adhesion in Epidermal Development and Barrier Formation

Abstract
1 Introduction
2 Development of the Stratified Epidermis
3 Adherens Junctions
4 Desmosomes
5 Tight Junctions
6 Junctional Crosstalk in Epidermal Function

Chapter Thirteen: Cadherin-Based Transsynaptic Networks in Establishing and Modifying Neural Connectivity

Abstract
1 Introduction
2 The Cadherin Superfamily
3 Functional Units of Adhesion and Signaling: Intra- and Inter-CAM Family Cross talk (Table 1)
4 Developmental Phases of Circuit Assembly: Evolving Roles of the Cadherin-Based Adhesive Network
5 Beyond Development: What Does the Cadherin–Catenin Transsynaptic Network Contribute to Brain Function Throughout Life?
6 Cadherin-Based Transsynaptic Networks in Pathophysiology of Brain Circuits
7 Conclusions
Acknowledgments

Chapter Fourteen: Cell–Cell Interactions Driving Kidney Morphogenesis

Abstract
1 Introduction
2 Cell–Cell Interactions Within the Developing Ureteric Epithelium
3 The Nephrogenic Niche—Balancing Self-Renewal and Differentiation
4 Mediators of CM Integrity, Identity, and Morphology
5 Differential Cell–Cell Adhesion in Nephron Formation, Fusion, Patterning, and Segmentation
6 The Adhesion–Cytoskeleton–Signaling Axis in Kidney Tubulogenesis
7 Formation of the Glomerular Filter
8 In Vitro Self-Organization Generates Kidney Organoids
9 Self-Organization in Directed Differentiation to Kidney
10 Application of Cell–Cell and Cell–Matrix Interactions Kidney Tissue Engineering
11 Conclusion
Acknowledgments

Index
---
Cell adhesion is a fundamental determinant of embryonic development and organogenesis. Cellular Adhesion in Development and Disease, volume 112 in Current Topics in Developmental Biology, comprehensively surveys current developments in understanding how adhesion systems affect organismal development. Topics covered include nectins, nectin-like molecules, and afadin in development; cadherin adhesion, signaling, and morphogenesis; endothelial cell junctions; epidermal development and barrier formation; and more.
This book surveys current understanding of how adhesion systems affect organismal development
Graduate students in developmental and cell biology; established non-expert scientists in these fields who aim to get both a conceptual overview of new developments in the area and an up-to-date review of the literature.
---
No. of pages:

536
Language:

English
Copyright:

© Academic Press

2015
Published:

2nd March 2015
Imprint:

Academic Press
eBook

ISBN:

9780124078895
Hardcover

ISBN:

9780124077584
---
About the
Serial Volume Editors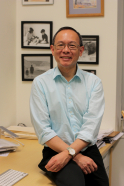 Alpha Yap Serial Volume Editor
Alpha Yap is a Professor and Head of the Division of Molecular Cell Biology at the Institute for Molecular Bioscience, The University of Queensland. After training in Internal Medicine, Endocrinology and Cell Physiology, he undertook post-doctoral research with Barry Gumbiner at Memorial Sloan-Kettering Cancer Center before returning to Australia to establish his independent research group. His laboratory studies the cellular mechanisms responsible for cadherin-dependent morphogenesis, notably the mechanisms and principles that coordinate cadherin adhesion with the cytoskeleton. He was Chair of the 2011 Gordon Research Conference on Cell Contact & Adhesion and will chair the 2016 GRC on Signaling by Adhesion Receptors. He currently serves on the editorial boards of several journals, amongst them Molecular Biology of the Cell, Developmental Cell and Current Biology. He is the recipient of the 2013 President's Medal of the Australia and New Zealand Society for Cell and Developmental Biology.
Affiliations and Expertise
Institute for Molecular Bioscience, The University of Queensland, Australia
Tax Exemption
We cannot process tax exempt orders online. If you wish to place a tax exempt order please
contact us
.