Bursting Neurons and Fading Memories
1st Edition
An Alternative Hypothesis of the Pathogenesis of Alzheimer's Disease
Author:
Michael R. D'Andrea
Paperback ISBN: 9780128019795
eBook ISBN: 9780128019887
Published Date: 20th October 2014
Secure Checkout
Personal information is secured with SSL technology.
Free Shipping
Free global shipping
No minimum order.
---
Advances in Alzheimer's disease (AD) research have been challenging and without major breakthroughs in understanding its pathological basis. The reigning hypothesis suggests AD is the result of extracellular amyloid deposition that seed to form amyloid plaques, which then grow and kill neighboring neurons. However, there are several inconsistencies with this hypothesis, not to mention the inability to show clinical benefit in several failed clinical trials by pharmaceuticals (i.e., from Pfizer, Eli Lilly, etc.), and it is in the field's best interest to explore and test multiple hypotheses for pathology rather than drive the majority of research on this single amyloid theory. Reviewing many scientifically peer-reviewed publications, this book describes the "Inside-Out" hypothesis on how amyloid escapes the circulatory system through a dysfunctional blood-brain barrier to bind to the alpha 7 nicotinic acetylcholine receptor on pyramidal neurons. Over time, excessive amounts of amyloid appear to be internalized, resulting in neuron death and lysis. This simple mechanism readily explains plaque composition, size, shape, and location. Based on the current direction of research in the field, this hypothesis appears years from any research and development.
The clear, compelling, and unifying "Inside-Out" hypothesis of AD is brought to life through a string of scientific publications, synthesizing many known features of disease pathology
A high-level text on AD pathology, and suggestions for progress in a stagnating field
Point-by-point discussion on the issues surrounding the current amyloid cascade, and possible reasons why current clinical trials have failed
Contains high-quality photomicrographs in support of the "Inside-Out" hypothesis using single, double, and triple immunohistochemistry on human AD CNS tissues
Chapters address the need for a unifying plaque nomenclature, the importance of intracellular amyloid, the blood-brain barrier, inflammation, and autoimmunity
Dedication
About the Author
Preface
Acknowledgments
Introduction
Chapter 1: Alzheimer's Disease Today

Abstract
Neurological factors
Non-neurological factors
The amyloid cascade
Looking ahead

Chapter 2: Seeds of a New Perspective

Abstract
Histology
Ready to start

Chapter 3: Introducing the "Inside-Out" Hypothesis

Abstract
Presentation time

Chapter 4: Addressing Technical Concerns

Abstract
Lipofuscin
Primary antibodies
Heat is the ticket
Antibodies
In situ ELISA

Chapter 5: The Good Intentions of Formic Acid

Abstract
Formic acid is the problem
Running like mascara

Chapter 6: Connecting MAP-2 and Cell Lysis

Abstract
Reverse logic
Diffuse plaques are benign
Troublesome end point

Chapter 7: Classifying Plaques

Abstract
Three dimensions
Multiple colors
Inflammation
Triple IHC
Microglia's unanticipated location
The diffuse amyloid plaque
Diffuse–vascular amyloid plaques
Dense–vascular amyloid plaques and others
Call for a nomenclature

Chapter 8: When Is a Star Like a Plaque?

Abstract
Similar initial hypotheses
New technology
Reflections of a discovery
Reinforcing evidence
Star nomenclature
Scientific parallels
Composition
Closing comment

Chapter 9: The Inflammation Cascade
Chapter 10: Innocent Aβ42
Chapter 11: The Alpha 7 Nicotinic Acetylcholine Receptor
Chapter 12: Immunoglobulin: Another Perpetrator

Abstract
Immunoglobulin neurons
Degenerating Ig-positive neurons

Chapter 13: Add AD to the List of Autoimmune Diseases
Chapter 14: The BBB and BRB in AD

Abstract
BRB, a vascular harbinger
In vivo BBB support

Chapter 15: "Inside-Out" in the Field

Abstract
Neuronal death by amyloid (via vascular issues)
Neuronal death by ApoE4
Neuronal death by inflammation
Neuronal death by tau
Neuronal death by autoantibodies
Miscellaneous notes

Chapter 16: Alzheimer's Disease Tomorrow

Abstract
State of the AD nation
Targeting the α7 receptor
Targeting Aβ42: not plaques
Targeting the BBB
Targeting inflammation
Biomarker discovery
Assessing BBB integrity via BRB
New work
Closing statement

Glossary
No. of pages:

170
Language:

English
Copyright:

© Academic Press

2015
Published:

20th October 2014
Imprint:

Academic Press
Paperback

ISBN:

9780128019795
eBook

ISBN:

9780128019887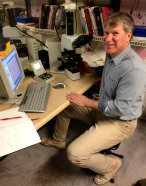 Dr. D'Andrea has a PhD in Cell and Developmental Biology and an MS in Molecular Biology. He has authored over 100 scientific publications, including invited review papers on Alzheimer's disease, and co-invented 11 patents. His technical expertise is in the areas of histopathology/neuropathology, immunohistochemistry, and image analysis. Since 1996, he was Team Leader and Principal Scientist of Target Validation Team at Johnson & Johnson Pharmaceutical Research & Development. There he discovered and validated novel targets, biomarkers, and compounds to treat cancer, inflammatory diseases, and Alzheimer's disease, and accepted numerous awards for these endeavors. Currently, he is president and histopathologist at Slidomics, LLC.
He has presented is Alzheimer's research at the following sponsored international, national and regional meetings: Society of Neuroscience; International Conference on Alzheimer's Disease and Related Disorders; The Alzheimer's Imaging Consortium; and International Neurodegeneration in Alzheimer's Disease, Parkinson's Disease & Related Disorders. In addition, he spoke at various meetings at the Annual Biological Staining Commission, The National Disease Research Institute, University of Pennsylvania, and was invited to lead the AlzForum's WebCast International discussion for the Alzheimer's Disease Forum on the evidence that neuronal cell death in AD is due to an autoimmune mechanism. He was also invited to the Challenging Views Of Alzheimer's Disease: Round II meeting to debate the inflammatory aspects of AD. In addition, he has reviewed international AD grants (Spain, Israel) and is on several scientific editorial boards.
He was one of the first to publish the presence of intracellular A42 in normal and AD neurons in 1999, first to hypothesize that plaques originate from neuronal lysis, first to report the presence of various plaques types in the AD brain, and first to provide morphological evidence of apoptotic neuronal death through an autoimmune mechanism in AD, suggesting that AD is an autoimmune disease. Most recently, he published a book entitled "Bursting Neurons and Fading Memories: An Alternative Hypothesis of the Neuropathology of Alzheimer's Disease". Furthermore, Michael has animated the "Inside-Out" hypothesis that is available on YouTube. Currently, he continues to post discussions on the matter.
Affiliations and Expertise
President, Slidomics, LLC, Wilmington, DE, USA
"In addition to presenting and supporting his specific hypothesis, the author succeeds in conveying a number of important points regarding scientific research in general and the IHC methods specifically.... The methodical approach described here, including the careful attention to possible sources of artifacts, is a realistic portrayal of the hard work required both in the laboratory and at the microscope." -- Dr. Rhein Parri, Senior Lecturer in Pharmacology, School of Life and Health Sciences, Aston University, Birmingham, UK, in Biotechnic and Histochemistry
"....This book will delight the scientifically savvy reader with a guided tour of the process.... Dr. D'Andrea chronicles the process of scientific discovery in an insightful way that takes the reader on a journey... If you wanted a window into Alzheimer's brain, here it is..... As a neuroscientist in the field, I found this book to be incredibly informative to the way I think about Alzheimer's pathogenesis." - Holly Brothers, Postdoctoral Fellow, The Ohio State University, Columbus, OH, USA on Amazon
"Bursting Neurons and Fading Memories by Dr. Michael D'Andrea is a good book to read for those interested in Alzheimer's disease (AD), its past research failures and its future promises.... The book provides valuable and specific staining techniques, some of which Dr. D'Andrea has devised through trial and error, that remind me of Ramὁn y Cajal's early trials with improving silver nitrate stains at the turn of the 20th century, to gather details about the neuron's structure and to discover some novel facts about how it dies in the damaged nervous system. I highly recommend this book." - Jack de la Torre, MD, PhD, Professor of Neuropsychiatry (Adjunct), Department of Psychology, University of Texas at Austin, Austin, TX, USA
"....Anyone wishing a clear description of the essential findings and the resulting hypothesis without having to consult the primary research papers will find their wish fully granted here. The writing is clear, the editing careful, and the references sufficient to show the way to the most relevant literature...." - Keith A. Crutcher, PhD, Neuroscientist, in the Journal of Alzheimer's Disease
Tax Exemption
We cannot process tax exempt orders online. If you wish to place a tax exempt order please
contact us
.
Elsevier.com visitor survey
We are always looking for ways to improve customer experience on Elsevier.com.
We would like to ask you for a moment of your time to fill in a short questionnaire, at the end of your visit.

If you decide to participate, a new browser tab will open so you can complete the survey after you have completed your visit to this website.

Thanks in advance for your time.
Accept
Decline