Atlas of Drosophila Morphology
1st Edition
Wild-type and Classical Mutants
Authors:
Sylwester Chyb
Nicolas Gompel
Hardcover ISBN: 9780123846884
eBook ISBN: 9780123846891
Published Date: 2nd May 2013
Secure Checkout
Personal information is secured with SSL technology.
Free Shipping
Free global shipping
No minimum order.
---
The Atlas of Drosophila Morphology: Wild-type and Classical Mutants is the guide every Drosophila researcher wished they had when first learning genetic markers, and the tool they wish they had now as a handy reference in their lab research. Previously, scientists had only poor-quality images or sketches to work with, and then scattered resources online - but no single visual resource quickly at their fingertips when explaining markers to new members of the lab, or selecting flies to do their genetic crosses, or hybrids.
This alphabetized guide to Drosophila genetic markers lays flat in the lab for easy referencing. It contains high-resolution images of flies and the appropriate marker on the left side of each page and helpful information for the marker on the facing page, such as symbol, gene name, synonyms, chromosome location, brief informative description of the morphology, and comments on marker reliability. A companion website with updated information, useful links, and additional data provided by the authors complements this extremely valuable resource.
Provides an opening chapter with a well-illustrated introduction to Drosophila morphology
Features high-resolution illustrations, including those of the most common markers used by Drosophila researchers
Contains brief, practical descriptions and tips for deciphering the phenotype
Includes material relevant for beginners and the most experienced fly pushers
Researchers and professionals working with Drosophila in the fields of genetics, developmental biology, cell biology, neuroscience and related disciplines; academics working with different organisms that are considering using Drosophila and want a tool to make the transition easier; graduate/upper undergraduate students studying Drosophila
Dedication
Foreword
Introduction
How to use this book
Resources
Technical notes
Acknowledgments
Wild-type morphology
Basics
Sexual dimorphism
Head
Head appendages
Thorax (dorsal view)
Thorax (lateral view)
Wings and halteres
Legs
Life stages: third instar larva and pupa
Pupal development
Eclosion and virgins
Bristle markers
Bristle Bl
diminutive dm
extra macrochaetae emc
forked f
hairy h
Humeral Hu(AntpHu)
javelin jv
Minute M
Pin Pin
scute sc
Scutoid Sco(snaSco)
singed sn
Sternopleural Sp(wgSp-1)
spineless ss
Stubble Sb
Wing markers
cubitus interruptus ci
cut ct
curled cu
Curly Cy
Dichaete D
dumpy dp
Lyra Ly
miniature m
Notch N
radius incompletus ri(kniri-1)
Serrate Ser
veinlet ve(rhove-1)
vestigial vg
wingless wg
Xasta Xa
Markers of other appendages
aristaless al
Antennapedia Antp
Distal-less Dll
Sex combs reduced Scr
thread th
Ultrabithorax Ubx
Eye shape markers
Bar B
Deformed Dfd
Drop Dr
eyeless-dominant ey
Glued Gl
glass gl
Glazed Gla(wgGla)
Irregular facets If(KrIf-1)
Lobe L
ocelliless oc
rough ro
Rough eye Roi(amosRoi)
roughoid ru
Eye color markers
brown bw
claret ca
cinnabar cn
garnet g
Henna Hn
karmoisin kar
light lt
Moiré Mé
pink p
purple pr
rosy ry
sepia se
scarlet st
vermillion v
white w
Body markers
Black cells Bc
ebony e
pentagon ptg
speck sp
Tubby Tb
yellow y
Marker summary plates
Thorax
Eye shape
Eye color
Wings
Balancer chromosomes
First Multiple 6 FM6
First Multiple 7a FM7a
First Multiple 7c FM7c
First Multiple 7d FM7d
First Multiple 7i FM7i
Curly of Oster CyO
Second Multiple 1 SM1
Second Multiple 5 SM5
Second Multiple 6a SM6a
Second Multiple 6b SM6b
Translocation CyO-TM9 T(2;3)CyO-TM9
Minute-Rosy-Stubble MRS
Minute-Karmoisin- Rosy-Stubble MKRS
Third Multiple 1 TM1
Third Multiple 2 TM2
Third Multiple 3 TM3
Third Multiple 6 TM6
Third Multiple 6B TM6B
Third Multiple 6C TM6C
Third Multiple 8 TM8
Third Multiple 9 TM9
D. melanogaster subgroup species
D. melanogaster
D. simulans
D. sechellia
D. mauritania
D. teissieri
D. erecta
D. orena
D. yakuba
D. santomea
Male epandria summary plates
Index
No. of pages:

242
Language:

English
Copyright:

© Academic Press

2013
Published:

2nd May 2013
Imprint:

Academic Press
Hardcover

ISBN:

9780123846884
eBook

ISBN:

9780123846891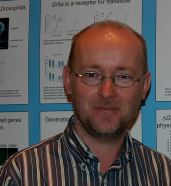 Sylwester Chyb is a Visiting Scholar at Trinity College, University of Cambridge. He is interested in the molecular mechanisms underlying insect sensory systems.
Affiliations and Expertise
Trinity College, University of Cambridge, UK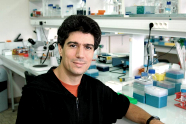 Nicolas Gompel is an investigator at the Institute de Biologie du Développement de Marseille (France). His research focuses on the evolution of morphology and behavior in fruit flies.
Affiliations and Expertise
Institut de Biologie du Développement de Marseille-Luminy, CNRS UMR, Marseille, France
"...a must have book for every Drosophila laboratory....successfully fills a long-lasting gap in Drosophila literature and will serve as a high-quality quick reference of standard material for experts as well as beginners." --European Journal of Entomology, 'vol. 111 (2014), iss. 4
"The authors have produced a splendid and tremendously valuable resource for the Drosophila laboratory that may also be a fun flip-through for non-Drosophilists…This volume should soon populate the microscope benches of fly rooms worldwide…This is a noteworthy work both for its utility and for its beauty." --The Quarterly Review of Biology, June 2014
"Chyb and Gompel present this new spiral-bound atlas for Drosophila researchers featuring sharp digital color photographs…Technical information on genomic location is also provided where available, and mutations are referenced to the online Drosophila genetics database FlyBase." --Reference & Research Book News, October 2013
"The Atlas of Drosophila Morphology provides a valuable, as well as beautiful, reference source for all those who need to recognize fly mutant phenotypes or who need to decipher the impenetrable jargon of fly anatomical names. A much needed update to the classic works of Demerec and Lindsley & Grell … A must for any fly lab." --Ralph J. Greenspan, Kavli Institute for Brain and Mind, UCSD
"Chyb and Gompel have produced a must-have book for every Drosophilist. The Atlas of Drosophila Morphology presents crisp, high-definition color images of all the classic morphological mutants a fly pusher needs to recognize, displayed side-by-side with a wild type fly." --Leslie B. Vosshall, HHMI-The Rockefeller University
"Drosophila is an exceptionally favorable model to investigate a plethora of biological problems. This book appears remarkably valuable not only for professional drosophilists but is particularly well suited for biologists with a modest background in fly genetics, who wish to use Drosophila as a model organism for their specific interests. The beautiful pictures featured in this book, often showing side-by-side mutant flies and wild-type counterparts, will enable easy identifications of the genetic phenotype, and add to the value of this volume." --Professor Jules Hoffmann, University of Strasbourg, France
Tax Exemption
We cannot process tax exempt orders online. If you wish to place a tax exempt order please
contact us
.
Elsevier.com visitor survey
We are always looking for ways to improve customer experience on Elsevier.com.
We would like to ask you for a moment of your time to fill in a short questionnaire, at the end of your visit.

If you decide to participate, a new browser tab will open so you can complete the survey after you have completed your visit to this website.

Thanks in advance for your time.
Accept
Decline