Advances in Organometallic Chemistry, Volume 62
1st Edition
Hardcover ISBN: 9780128009765
eBook ISBN: 9780128010846
Published Date: 24th September 2014
---
Chapter One: Palladium-Mediated Organofluorine Chemistry

Abstract
1 Introduction
2 C—C Coupling Reactions of Fluorinated Reagents
3 C—F Activation and Fluorination
4 Conclusion
Acknowledgment

Chapter Two: Normal and Abnormal N-Heterocyclic Carbene Ligands: Similarities and Differences of Mesoionic C–Donor Complexes

Abstract
1 Introduction and General Considerations
2 Ligand Nomenclature: Abnormal or Mesoionic Carbene Complexes?
3 Electronic Considerations
4 Reactivity of Complexes with Sterically Comparable Ligands
5 Conclusions and Outlook
Acknowledgments

Chapter Three: Synthesis and Applications in Catalysis of Metal Complexes with Chelating Phosphinosulfonate Ligands

Abstract
1 Introduction
2 Synthetic Routes to Achiral and Racemic Phosphine Sulfonic Acid Prochelates
3 Preparation of Scalemic Sulfonate Prochelates
4 Applications of Sulfonate Prochelates in Coordination Chemistry
5 Applications in Molecular Catalysis
6 Application of Metal-Phosphinosulfonate Chelate Complexes in Polymerization
7 Recent Contributions
8 Conclusions and Outlook
Acknowledgments

Chapter Four: The Mannich Route to Amino-Functionalized [3]Ferrocenophanes

Abstract
1 Introduction
2 Prolog: Synthesis of Ansa-Zirconocenes by the Mannich Reaction
3 [3]Ferrocenophane Synthesis by the Mannich Route
4 [3]Ferrocenophane Derived N/P and P/P Chelate Ligands
5 [3]Ferrocenophanes in Bio-Organometallic Chemistry
6 Frustrated Lewis Pair Chemistry at the [3]Ferrocenophane Framework
7 Some Conclusions
Acknowledgments

Chapter Five: Organometallic Intermediates of Gold Catalysis

Abstract
1 Introduction
2 Organogold Intermediates
3 Conclusions

Index
---
This book contains authoritative reviews regarding the field of Organometallic Chemistry, written by highly qualified experts within the area, and reviewed by other experts before publication. Because of this high standard, AOC is one of the most cited journals in both Organic and Inorganic Chemistry fields.
High quality of the articles
Expertise of authors
Careful editing that provides an easy-to-read material
Researchers involved in Organometallic Chemistry from a wide perspective, including synthetic protocols, mechanistic studies and practical applications.
---
No. of pages:

322
Language:

English
Copyright:

© Academic Press

2014
Published:

24th September 2014
Imprint:

Academic Press
Hardcover

ISBN:

9780128009765
eBook

ISBN:

9780128010846
---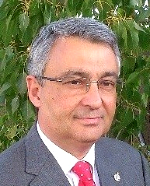 Pedro J. Pérez (FRSC) graduated in 1991 under the supervision of Prof. Ernesto Carmona (Univ. Sevilla, Spain). As a Fulbright Scholar, he then joined Prof. Brookhart's group at UNC-Chapel Hill (USA). He started an appointment as Assistant Professor at the Universidad de Huelva (Spain) in 1993, where he has been promoted several times until the current position of Professor in Inorganic Chemistry (since 2005). His work is devoted to the development of organometallic complexes of late transition-metal as well as their use as catalysts for transformations involving hydrocarbons, including olefin modification, carbon-hydrogen bond functionalization, and click chemistry. He has been recognized by the RSC with the 2015 Homogeneous Catalysis Award, and by the RSEQ (Spain) with the 2007 Inorganic Chemistry Award and the 2016 Gold Medal Award. In 2014 he joined the National Academy of Sciences of Spain as Corresponding Member.
Affiliations and Expertise
Homogeneous Catalysis Laboratory, Center for Research in Sustainable Chemistry, Universidad de Huelva, Huelva, Spain
Tax Exemption
We cannot process tax exempt orders online. If you wish to place a tax exempt order please
contact us
.