Advances in Marine Biology, Volume 60
1st Edition
Hardcover ISBN: 9780123855299
eBook ISBN: 9780123855305
Published Date: 11th October 2011
---
Learning to Read the Oceans
1. Introduction
2. Marine Cyanobacterial Genomics
3. Eukaryotic Genomics
4. Conclusions
Acknowledgements
Biology of Deep-Water Octocorals
1. Introduction
2. Classification
3. Phylogenetic Relationships
4. Biogeography
5. Distribution of the Three Major Deep-Sea Families
6. Symbionts
7. Predators
8. Food
9. Reproduction
10. Growth and Age
11. Dispersal
12. Threats and Conservation Issues
Acknowledgements
Tipping Points, Thresholds and the Keystone Role of Physiology in Marine Climate Change Research
1. Introduction
2. Weather, Climate and Climate Change from the Viewpoint of a Non-Human Organism
3. Physiological Response Curves
4. Indirect Effects of Climate Change: Species Interactions and Tipping Points
5. Putting the Pieces Together: Where Do We Go from Here?
Acknowledgements
Social Aggregation in the Pelagic Zone with Special Reference to Fish and Invertebrates
1. Introduction
2. Aggregation Principles and Features in Pelagic Ecosystems
3. Technology Breakthroughs in Experimental and Observational Methods
4. Theoretical Developments in Social Aggregation
5. Social Aggregation, Climate Change and Ocean Management
6. Conclusion
Acknowledgements
---
Advances in Marine Biology has been providing in-depth and up-to-date reviews on all aspects of marine biology since 1963 -- over 45 years of outstanding coverage! The series is well-known for both its excellence of reviews and editing. Now edited by Michael Lesser, with an internationally renowned Editorial Board, the serial publishes in-depth and up-to-date content on a wide range of topics that will appeal to postgraduates and researchers in marine biology, fisheries science, ecology, zoology, and biological oceanography.
Advances in Marine Biology has been providing in-depth and up-to-date reviews on all aspects of marine biology since 1963 -- over 45 years of outstanding coverage!
The series is well-known for both its excellence of reviews and editing
Now edited by Michael Lesser, with an internationally renowned Editorial Board, the serial publishes in-depth and up-to-date content on a wide range of topics that will appeal to postgraduates and researchers in marine biology, fisheries science, ecology, zoology, and biological oceanography
Postgraduates and researchers in marine biology, fisheries science, ecology, zoology, oceanography
---
No. of pages:

272
Language:

English
Copyright:

© Academic Press

2011
Published:

11th October 2011
Imprint:

Academic Press
eBook

ISBN:

9780123855305
Hardcover

ISBN:

9780123855299
---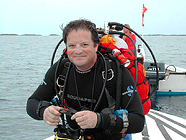 Educational Background Ph. D., University of Maine, Zoology, 1989 M.S., University of New Hampshire, Microbiology, 1985 B.A., University of New Hampshire, Microbiology, Minor: Zoology, 1983 A.S. George Washington University, Medical Laboratory Science, 1977 Courses Taught Biological Oceanography, Physiological Ecology, Marine Biology, Marine Microbiology, General Microbiology, Immunology, Biology and Ecology of Coral Reefs Current Research Interests My principal focus involve understanding how taxonomically diverse marine organisms respond physiologically to changes in their environment. In particular I'm interested in how organismal physiology can influence the ecology of marine organisms. As a physiological ecologist my students and I answer these types of questions by utilizing field and laboratory experiments, as well as a wide range of techniques from molecular biology to in situ measurements. Currently my research encompasses four major areas; 1) Biochemistry and molecular genetics of oxidative stress in marine organisms associated with exposure to ultraviolet radiation, elevated temperatures, or hyperoxic conditions. 2) Physiological ecology of marine invertebrates and phytoplankton, physiological responses to changes in the environment, bacterial- and algal-invertebrate symbioses, and the trophic biology of suspension-feeding invertebrates. 3) Ecology and photobiology of mesophotic coral reefs. 4) Underwater technology, use of technical diving for scientific research. Selected Publications Lesser MP. Using Energetic Budgets to Assess the Effects of Environmental Stress on Corals: Are We Measuring the Right Things? Coral Reefs, 32: 25-33, 2013. Brazeau, D., M. P. Lesser, and M. Slattery. Genome-wide Sampling of Genetic Structure in the Coral, Montastraea cavernosa: Assessing Population Connectivity Among Mesophotic Reefs. PLoS ONE, 8(5): e65845, 2013. Lesser, M. P., Stat, M., and R. D. Gates. The Endosymbiotic Din
Affiliations and Expertise
University of New Hampshire, USA